Your time to board the plane to your winter adventure in Norway is nearly here! But what are the best items to take with you? What do you need to pack – what do you wear? Well check out our 10 top things to take.
Read on.
Where to start but with your sturdy base layers!
A Norwegian saying goes 'There's no such thing as bad winter weather, just bad winter clothing'. And to help your body keep, reuse and give out heat – reliable base layers are key.
Look for ones made from wool or synthetic materials as they'll help keep you dry, warm. Also, if you can, go for merino wool base layers as they're less itchy, smelly and hold more moisture before feeling damp.
Which makes them great for re-using throughout your winter trip to Norway.
And whether you want to cross-country ski, snowshoe, build igloos, avalanche train or jumpstart your winter survival skills – mid-layers are a real win! 
You'll wear them between your base layer, parka or windbreaker and they're great for helping trap warm air.  
Also, if your temperature spikes whilst being active or the sun casts a hot spell, you can remove these layers to let your body breathe. 
But steer clear of cotton as it's not very breathable or waterproof – which means you won't be able to use it as often before it starts to smell or feel damp. 
Winter Parka, Windbreaker (or Shell Layers)
Winter parkas are useful for outerwear protection. And get yourself a waterproof, thigh-high, padded one too as it will protect you against the wind updraft and help keep you warm.
On the other hand, you could go for a windbreaker with a fleece lining. If you do, look for ones with big zip toggles to make them easier to grip when you're wearing gloves or mittens.
Plus, with a reliable coat, you can use the '3 Layer Technique' during high activity days. Which means, you can keep warm and dry when still and free trapped workout heat when active.
Waterproof, Insulated Legwear
Again, we go back to the merino wool!
Base layer leggings topped with some Gore-Tex ski pants should do the trick.
It means you get all the plus points of merino with all the big hitting qualities of Gore-Tex – which are windproof, waterproof and crafted to breathe.
To add, leggings with zipped or elastic hems can be a nice-to-have if you choose to cross-country ski as this means they're easier to fit over your ski boots.
Next, thermal-insulated gloves or mittens are a must have too.
And be sure they're waterproof as wool gloves will dampen whilst outside.
Then when back at your base, they're likely to turn icy because of invisible water droplets soaking the fibres.
Plus, with mittens you get the added benefit of grouping your fingers together. Which means they give off and trap their own heat in one protected space.
Last, if you want to use your phone whilst out take some touchscreen gloves as well. It means you can keep warm whilst capturing those awesome moments.
Keeping your head warm is vital for helping keep the rest of your body warm too.
Cold heads can lead to tight blood vessels which can mean cold hands and cold feet – even when they're covered!
Also, a woolly scarf creates a pocket of air to help keep your neck heated and can be used to cover your mouth and nose as well.
A good base layer of merino wool socks is your go to.
And wear two pairs of thin socks instead of one heavy pair as it supports your heat retention as well.
We recommend two pairs of merino, but you can also go for silk or polyester layers. Silk's comfortable against your skin and acts as a nice alternative when wearing tight-fitting clothes.
Whereas polyester is a synthetic fabric that dries well – making it a great layer for all your activities.
Sunglasses or Wrap-Around Goggles
Despite the cold weather, the sun can still be super piercing.
Which is why, a good pair of sunglasses or wrap-around goggles will really add to your adventure.
You won't strain your facial muscles from squinting and you'll also be able to keep a light protected eye on your young people
When exploring a town like Kristansand, a solid pair of boots may do the trick, but in the thick, deep snow – shoe wear crafted specifically for that weather are a must.
A breathable, waterproof and above ankle-high pair of purpose-built boots will see you right.
It means you can plough through the white stuff without being stopped in your tracks because your feet are ice cubes.
We noted how some quality eye protection is needed for the bright ball of light in the sky, but it can also be quite damaging to your skin too.
So, to help avoid tight, red and maybe even blistered faces – take some lip balm and sun lotion.
Your Next Winter Trip to Norway?
There you have it – a solid answer to the question of 'what do you wear for a winter trip to Norway' – with your handy checklist below:
And if you want to dive even further, check out our webpage crafted for winter trips to Norway by clicking here.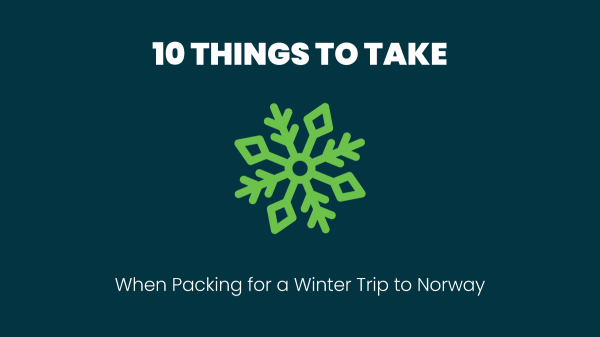 Packing for a Winter Trip to Norway: 10 Things to Take
Soooo many layers yet so little time. Not here—there's base, mid, shell and every other clothing overlay you'll need in a cosily digestible read.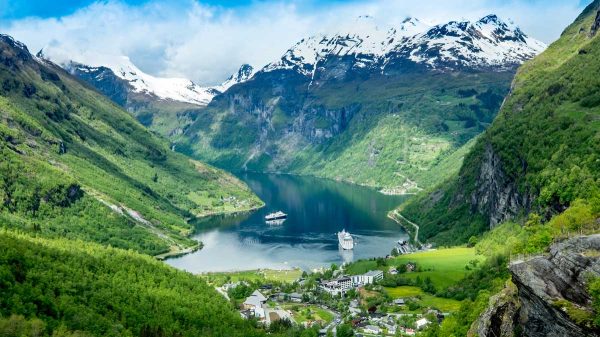 Why Summer Trips to Norway Outshine all the Rest 
What's brighter than a summer in the UK? The welcoming summer months, full tables and unforgettable scenery in this Scandinavian country might just fit everything you want and more. Check it out.