The land of fire and ice is an awesome place to visit on a trip. And that's exactly how our resident guide Katie felt on her Iceland trip with members from a number of Trefoil Guilds.
Read on.
The Great Icelandic Weather!
This wonderful country of Iceland never lived up to its name more than last February when members from multiple Trefoil Guilds and I headed north to experience everything it had to offer.
First, when at London Heathrow airport, with many layers of clothing, crampons for our shoes and a ton of excitement – we waited to board our flight to Keflavik airport. Except, the Icelandic weather finally won out, and we couldn't depart as planned.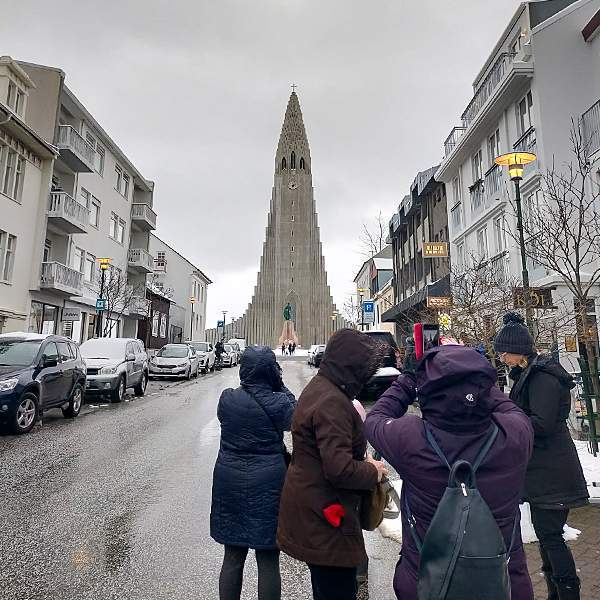 Still, as the Guide law says, "A Guide smiles and sings under all circumstances", and soon the Uno cards came out to pass the time!
Then, 24 hours later, we were in the Blue Lagoon with all memories of the travel issues long forgotten.
'A Living Geography Textbook!'
And whilst floating in the warm waters of the Blue Lagoon, you couldn't help but take in the amazing mountains and sunset.
Also, we thought back to when we landed in the snow, the ice, with the odd lava flow, and you can see why this country is unique when people live alongside a living geography textbook!
Plus, raspberry wine in the lagoon was an equally welcome treat!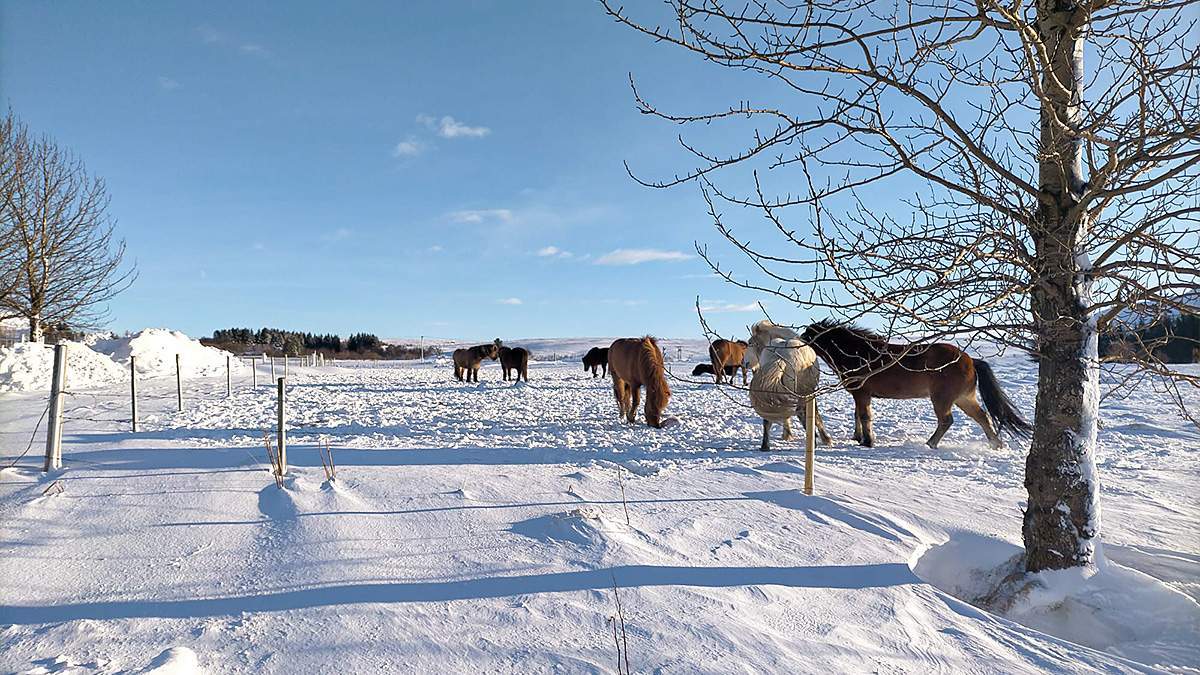 Thingveller, Althing and Icelandic Horses
After the Blue Lagoon, we headed to our hotel. Here, we enjoyed delicious mushroom soup and watched Reykjavik city lights from across Faxaflói Bay. The next day, we set off into the Icelandic countryside for þingvellir (Thingvellir) National Park and the oldest parliament in the world, the Althing.
Then, as it glistened in the snow, it was hard to imagine a more tranquil place to have a political debate. Also, you can really see the movement of the American and European tectonic plates. And as any Trefoil Guild member will tell you, they always have a friend in a different continent – but here, that friend was only 10 feet away!
Sadly, the weather again limited our travels, so a new plan was needed. Which is when our guide Friðrik seemed to embody another of the Guide laws, "A Guide is a friend to all animals" and arranged for us to visit a farm with unique Icelandic horses.
We were able to get up close with these gorgeous creatures, which are hardy enough to still be outside in the harsh weather. But, for us humans, coffee and cake indoors were very much welcome. So, after we'd said goodbye to the horses, we set back for Reykjavik.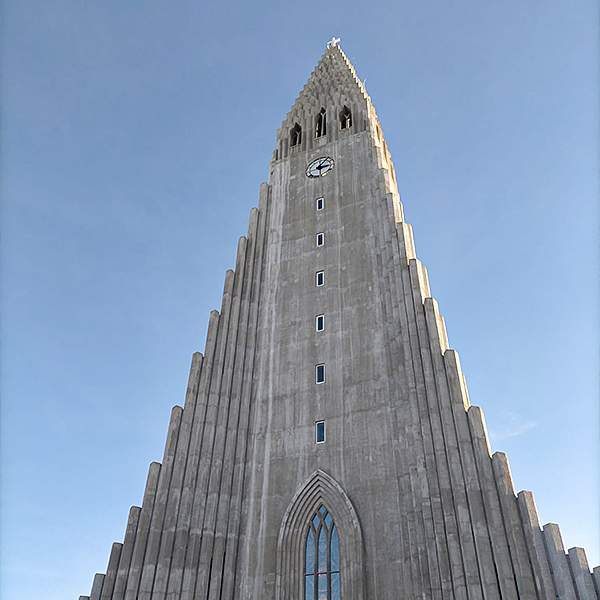 Reykjavik and The Northern Lights
First, we finished up in the largest church in Iceland, Hallgrimskirkja, which was built to represent the lava fields around Iceland and a moment of calm in this busy city.
Later that evening, we layered up and hunted the elusive Northern Lights.
The sky show, was a no show...
Usually, when skies across Reykjavik are calm and clear, it's an excellent opportunity to see the lights. So, we watched and waited, but the Lights kept themselves hidden! Still, we were lucky to see some changes in the sky, with many of our photos showing what usually precedes the Aurora Borealis: a beautiful green haze.
The next day we explored more of Reykjavik on a food walking tour around the city's best dishes and restaurants.
There were plenty to enjoy – and not a bit of fermented shark in sight! Instead, mass pans of fish, delicate lamb dishes and rye bread ice cream kept everyone going.
But, my personal favourite was the Icelandic hot dog from the stand where Bill Clinton apparently ate. It was lovely to see where the locals might get their lunch.
Perlan - Wonders of Iceland
After, some of us headed to Perlan, which is a multi-media experience where you can learn about the geography and nature of Iceland.
One of the highlights is the Ice Tunnel, where you learn about the different layers of ice and what we can do to stop these from being destroyed.
Plus, those who did make it to Perlan can also brag that we saw the Northern Lights from the fascinating show in their planetarium.
I had a rough idea of what caused the Aurora, but it gave so much more detail about the myths and legends surrounding them. So, it was well worth the visit.
A Friend and Sister to All!
Eventually, all good things must come to an end. Which is why, we headed back to Keflavik airport and then home to the UK the next day.
Our visit was short and sweet and left us wanting more. And as Iceland is an ever-changing country, from its landscape to all of the fantastic activities and excursions you can try there – no two visits are ever the same.
Overall, new members were accepted and new friendships formed and I know that the group will meet up this summer. After all, "A Guide is a friend to all and a sister to every other Guide."
And if Katie's fascinating record of her Icelandic trip gets you excited, call us today or get in touch via the button below, so we can start tailor-making your next adventure.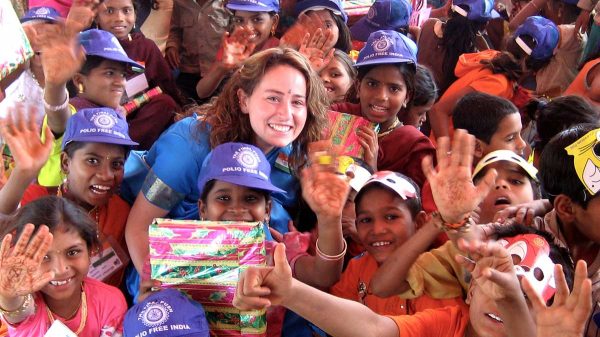 The Significance of Visiting a World Centre
The World Association of Girl Guides and Girl Scouts (WAGGGS) have five World Centres. And visiting any of those major hubs can be a huge moment in the life of any Guide or Scout.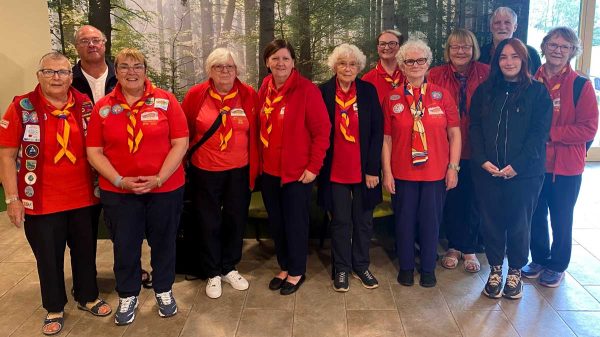 The Carnoustie Guild's 2nd Adelboden Adventure
Ever wondered what makes the 2nd trip so satisfying to a place you've visited before? Then dive in.